Which ITSM practices will deliver the most immediate impact to your business?
Set the world standard for enterprise IT, policies, and procedures in your organization with the ITSM Starter Kit—Third Edition!

Buy this toolkit with confidence!All contents of this collection are 100% guaranteed. If you're not satisfied with your purchase we refund—no questions asked.
See FAQ page for terms and conditions.
Wouldn't it be great to know which ITSM practices would benefit your company the most so you can prioritize your focus?
A wealth of ITSM Tools and Critical Information is now at your finger tips!
The best-selling ITSM Starter Kit—Third Edition delivers a comprehensive collection of factsheets, reading material, illustrated models, and well-designed worksheets that are proven to help any organization get up to speed on ITSM principals fast!
The ITSM Starter Kit will help your team prioritize your ITSM implementation based on which ITSM principals will provide the most immediate benefit to your company.
---
Information Technology Service Management (ITSM) is a standard for managing Information Technology Systems. The first-class ITSM Starter Kit delivers a plethora of documentation aimed to support and assist you with the implementation of effective management of your organization's IT Services.
Companies of all sizes have benefited from significantly improved IT Services and reduced errors by applying ITSM principles to their processes. This could be you!
This toolkit has been vigilantly created to improve your organization's current IT policies, procedures, and overall standards. It contains documents designed to walk you through the initial steps of your ITSM implementation and get you on the right path to IT Service Management excellence.
This leading ITSM Starter Kit contains Presentations, Blueprints, and assessments:
The carefully created Power Point Presentations can be used to educate, as the basis for management presentations, or when making business cases for ITSM implementation. These presentations will give you an insightful plethora of knowledge and understanding of all the terms, activities, and concepts required within the ITSM proces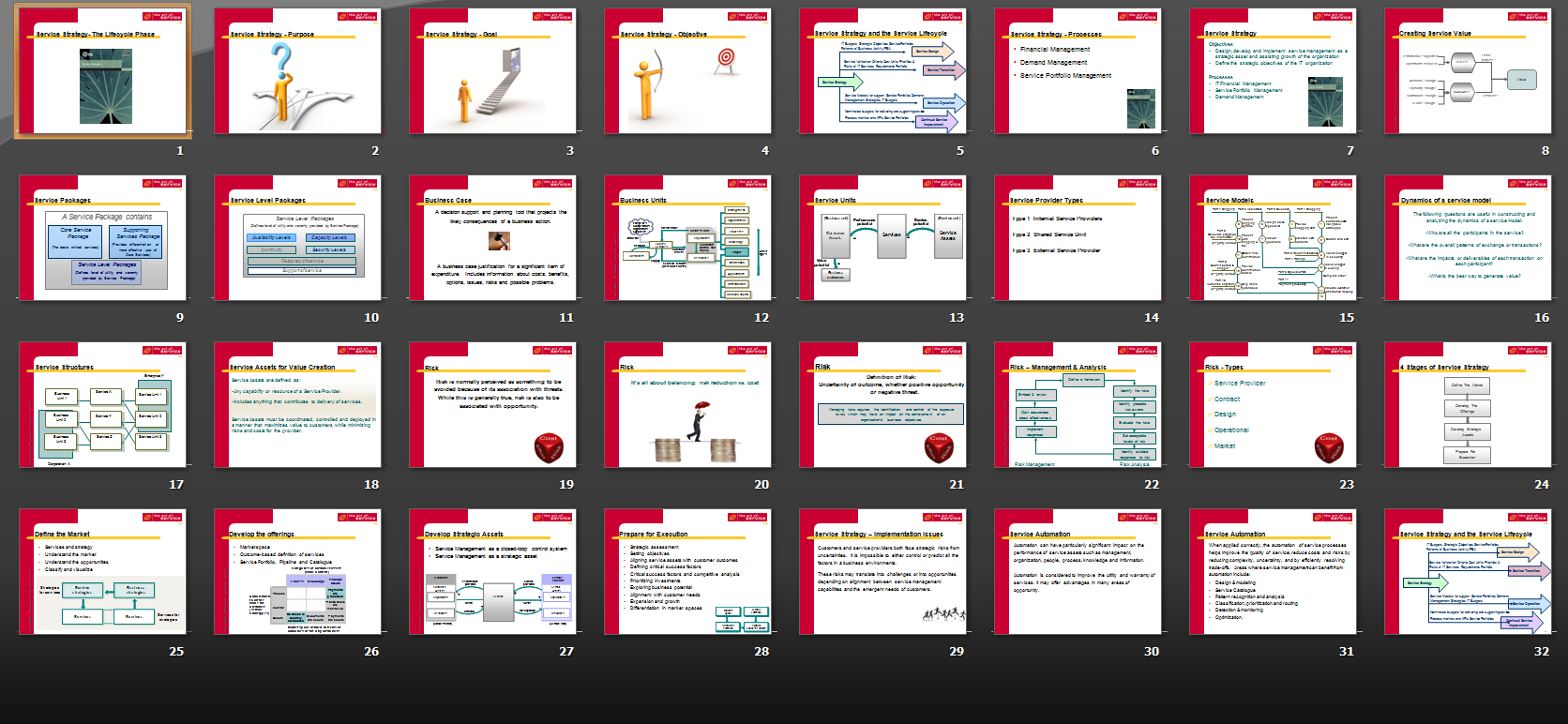 The supporting documents and assessments provided within this toolkit will help you identify the areas within your organization that require the most activity in terms of change and improvement.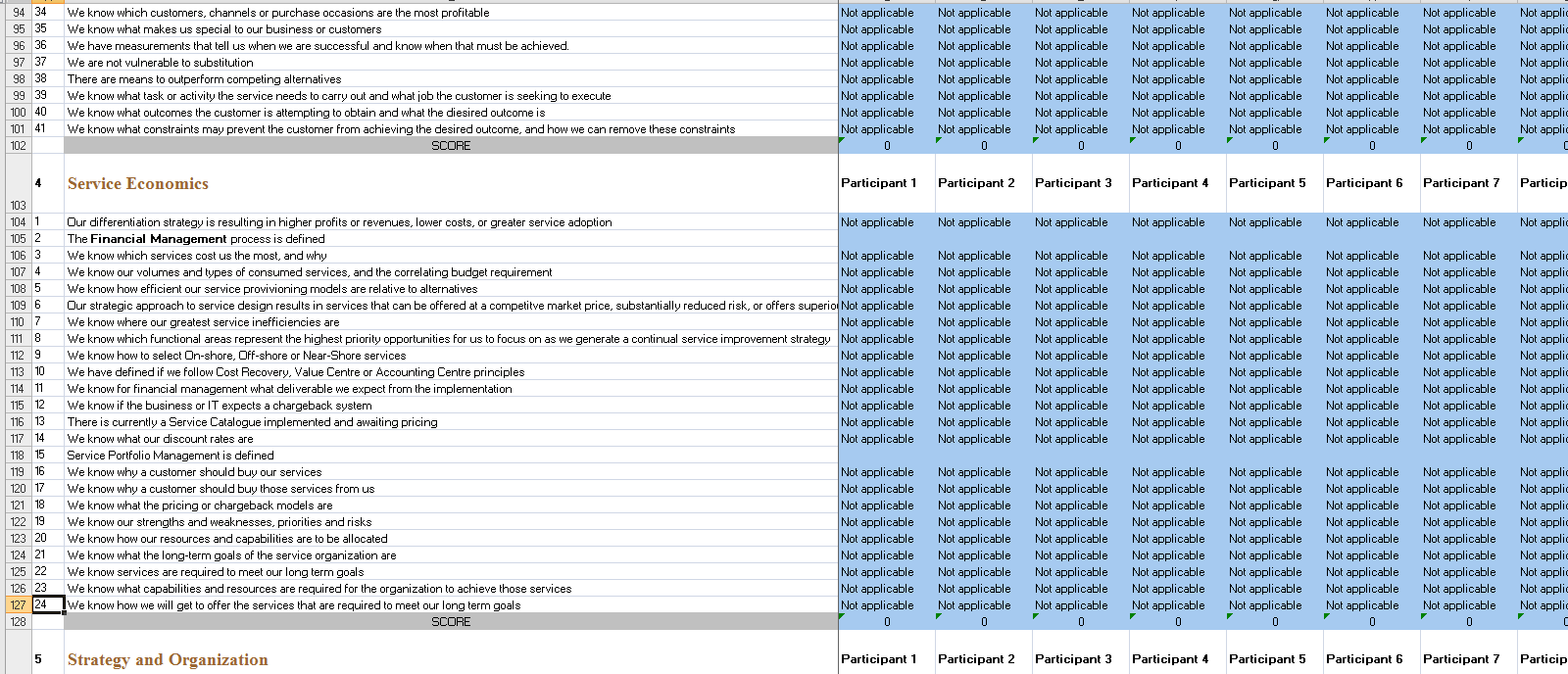 Additional information and bonus material containing success secrets to embedding ITSM into any organization are provided and will enable you to greatly increase your success rate.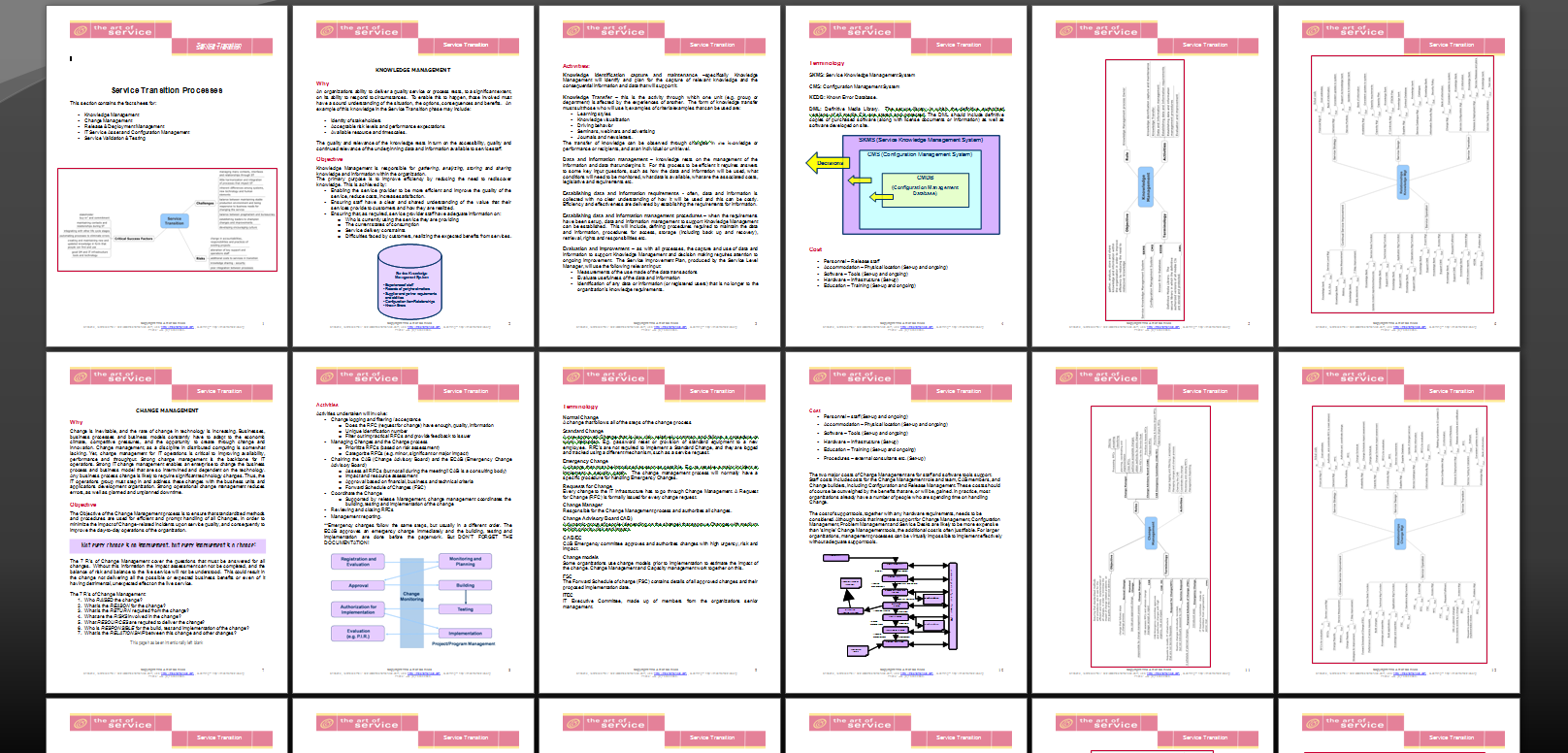 A Quick Look Inside: This Innovative Toolkit Provides You With:
Step 1

1. ITIL® v3 to 2011 Bridging Overview
2. ITIL® v3 to 2011 Bridging Introduction Presentation
3. Service Strategy Lifecycle Phase Introduction
Service Strategy Lifecycle Phase Introduction Presentation
Description of Asset Types
Challenges, CSFs and Risks
4. Service Design Lifecycle Phase Introduction
Service Design Lifecycle Phase Introduction Presentation
The Service Design Package
Measurement of Service Design
Implementing Service Design
Service Acceptance Criteria
5. Service Transition Lifecycle Phase Introduction
Service Transition Managing Communications and Commitment
Service Transition Organization of Service Transition
6. Service Operation Lifecycle Phase Introduction
Service Operation Lifecycle Phase Introduction Presentation
Service Desk - Metrics
Service Operation Functions - Roles & Responsibilities
7. Continual Service Improvement Lifecycle Phase Introduction
CSI Lifecycle Phase Introduction Presentation
Service Measurement Reporting
CSI Roles and Responsibilities
Step 2

1. Service Strategy Factsheet
2. Service Design Factsheet
3. Service Transition Factsheet
4. CSI Factsheet
5. Factsheet Glossary
6. ITSM Beginners Guide v8
7. Service Operation Function Factsheet
8. Service Operation Process Factsheet
9.Process Mind Maps

Step 3

1. ITIL Service Strategy Readiness Assessment V1
2. ITIL Service Design Readiness Assessment V1
3. ITIL Service Transition Readiness Assessment V1
4. ITIL Service Operation Readiness Assessment V1
5. ITIL Continual Service Improvement Readiness Assessment V1
6. ITIL Service Management Practices Executive Overview
Step 4- Extra 'Bonus' Material
1. Official Glossaries and Terminology
ITIL 2011 Glossary and Abbreviations

2. The ITSM Guide Reference Sheets
ISO 20000 Fact Sheet
ISO 27001 Fact Sheet
Capability Maturity Model Integration Fact Sheet
COBIT Fact Sheet
eSourcing Capability Model for Service Providers (eSCM) Fact Sheet
Management of Risk (M_o_R) Fact Sheet
PRINCE2 Fact Sheet
Project Management Body of Knowledge Fact Sheet
Six Sigma Fact Sheet
Telecom Operations Map (eTom) Fact Sheet
(Also includes Toolkit Roadmap and Toolkit Introduction Presentation)
Purchase the ITSM Starter Kit—Third Edition Risk Free Today!
The instant you purchase the collection, the factsheets, presentations, and tools included above will be available to you through a simple download!
Need help justifying your investment?
At the Art of Service, we know how important your time is for you and we also understand that nobody can substitute you in certain scenarios. That is why we give you the results without you having to do all the legwork; we do the researching and the analysis and the collating of information we find.

All you have to do is take the outcome of all that work and use it as part of your project—to make it unique to your job, project, or task at hand in a way that only you can do.
Get the edge; learn EVERYTHING you need to know about ITSM and top any discussion, proposal, and implementation with the ultimate Starter Kit—guaranteed to give you the tools and education you need, faster than you ever dreamed possible!
Don't hesitate! Purchase your copy today!