Cloud computing Foundation
Posted by on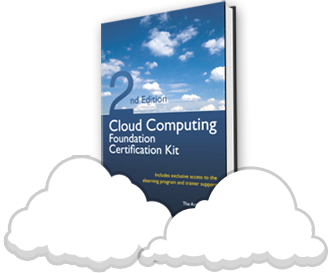 In today's volatile job market, technical certifications are:
| | |
| --- | --- |
| | The ticket to higher pay |
| | The fast track to greater prestige |
| | The means to gainful employment |
But with the endless options out there, how do you decide which certification is right for you?
The trick lies in choosing one that lives up to its promises and really helps you keep the job you have or land a new and better one.
That's precisely why a Cloud Computing Certification is one of today's hottest tech certifications. It delivers:
financial rewards
job security
In fact, a recent Foote Partners' survey of more than 22,000 IT professionals, covering some 170 certifications, deemed the most valuable IT certificates to be those that fall into the architecture and security categories. Cloud Computing Certification just happens to be part of that noteworthy architecture category.
With employers spending less on training, employees are left to either gamble on the job market without it or enroll themselves in career-enhancing education on their own. Certification-seeking students, particularly those in the constantly evolving IT industry, are driven by a sense of employment self-preservation. They:
want to keep themselves marketable
recognize that certifications like Cloud Computing give them a competitive edge in even the toughest hiring environments
know full well that when faced with two comparable candidates, a hiring manager can be swayed in favor of the one holding the certification
Heralded as the "next big trend," rest assured Cloud Computing isn't going away any time soon. Indeed, Cloud Computing Certification is poised to remain an extremely influential one for years to come. It's the one that will:
grow the fastest
rise the fastest
demonstrate the true future of IT certification
In essence, Cloud Computing is quickly becoming the crème de la crème of the IT certification menu of options.
Now that you're convinced that a Cloud Computing Certification is the career-enhancing pursuit that's right for you, the next challenge becomes finding a certification provider with a stellar reputation that matches that of the qualification itself. While it carries a lot more respect than others in the market, Cloud Computing Certification is a truly challenging one.
Here at The Art of Service, we've earned a nationalreputation for the quality of all our IT Certification programs. We don't just inundate our students with an overload of information and expect them to sort it all out. We actually test candidates' hands-on skills so that by the time they walk away from our Cloud Computing Certification program, they're ready to start leveraging its income- and career-boosting potential.
The certified Cloud Computing title will only get you so far. You need to possess the actual Cloud Computing skills that are seen as so marketable in the current IT environment. Did you know…
High-level Cloud Computing skills like those our certification program provide put you in high demand within the Internet Technology industry?
Demand for a great Service/Architecture/Cloud Computing expert outstrips that for general Microsoft administration skills?
This Study Guide and Online Course access provide complete, in-depth coverage of all exam objectives for the Cloud Computing Foundation exam. They undertake a systematic approach so you can be confident you're receiving all the instruction you need to put yourself in demand.
What you can expect from the Art of Service Cloud Computing Foundation program:
Real-world scenarios that put what you've learned in the context of service solutions
Thought-provoking questions to challenge your thinking and understanding
Chapter-by-chapter Exam Essentials to help you zero in on precisely the information you need to know
Practice exam questions to help you ace the certification test
A Real-World Guide to Cloud Computing Skills
Key information and real-world examples organized around the actual day-to-day tasks and challenges you'll face in the field of IT Management
Challenging Cloud Computing Foundation exam-style questions to practice what you've learned
Based on your specific exam objectives, we encourage you to use this course as a lab manual in preparation of your Cloud Computing Certification.
Payment Details
Cloud Computing Foundation Complete Certification Kit
Only $99.95 USD

We accept the following payment methods: