How long would your business survive an interruption?
This comprehensive guide tells you why you need a plan and then will help you put one together, including fully updated, detailed glossary and additional examples. Clearly split into useful sections, the toolkit is easy to navigate and a must have resource for your organization!
With contributions from leading practitioners in the industry, the Business Continuity Risk Analysis and Testing Kit has established itself as an invaluable resource for anyone involved in or looking to gain a detailed appreciation of the rapidly emerging area of business continuity and disaster recovery within the corporate environment.
Buy this toolkit with confidence!All contents of this collection are 100% guaranteed. If you're not satisfied with your purchase we refund—no questions asked.
See FAQ page for terms and conditions.
What if operations were destroyed by fire or flood, negative media drove away customers, or the company database was stolen or infected by a virus?
How well are you prepared to deal with disaster?
Can your business afford to shut down for an extended period of time…?
Be prepared with the time-tested strategies in this toolkit and protect your employees, while ensuring your company survives the unimaginable!
Learn how to cover ALL of the components required for successful Business Continuity Management with this state of the art educational resource.
This beneficial toolkit has been devised primarily for the people involved in a business continuity project, from individual team members through to the Chief Executive and Board. Each participant plays an important role and has an array of responsibilities in ensuring the success of the project and continuing validity of the plan.
Successful business continuity management relies on the expertise from within the organization; it is the people that understand the organization, its business, processes, and business risks. 

The supporting resources found within this toolkit consist of templates, example plans, strategies, and recovery options that can be used in your own organization or as a template in creating your own bespoke documentation.
Can you afford to miss out on this opportunity?
The Business Continuity Management Toolkit contains templates, assessments, and essential resources: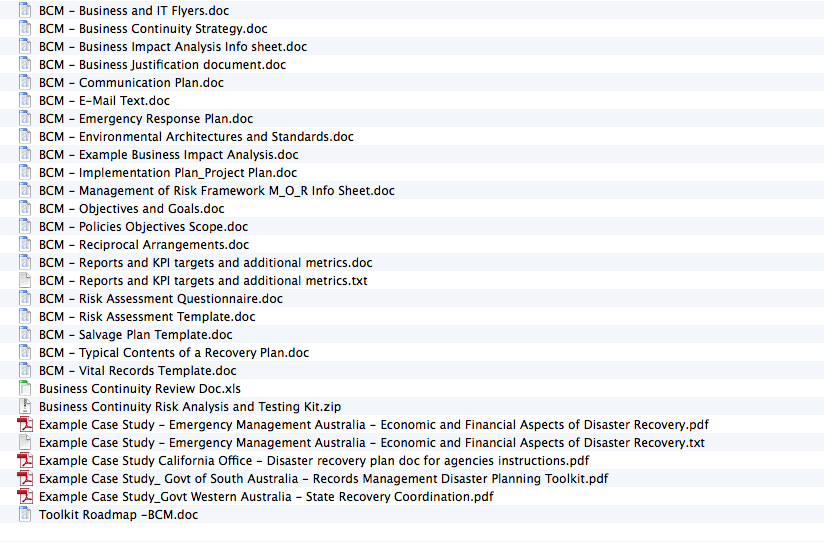 Supporting documents and assessments are provided that will help you identify the areas within your organization that require the most activity in terms of change and improvement.
The additional information will enable you to improve your organization's methodology knowledgebase.

A Quick Look Inside—This One-Of-A-Kind Toolkit Contains:
1. BCM Objectives and Goals
2. BCM Policies, Objectives, and Scope
3. BCM Business Justification Document
4. BCM Example Business Impact Analysis
5. BCM Business Impact Analysis Information Sheet
6. BCM Risk Assessment Template
7. BCM Environmental Architectures and Standards
8. BCM Reciprocal Arrangements
9. BCM Salvage Plan Template
10. BCM Business Continuity Strategy
11. BCM MOR Framework
12. BCM Risk Assessment Questionnaire
13. BCM Typical Contents of a Recovery Plan
14. BCM Communication Plan
15. BCM Email Template
16. BCM Emergency Response Plan
17. BCM Reports, KPI targets, and Additional Metrics
18. BCM Vital Records Template
19. Business and IT Flyers
20. Business Continuity Management Review Document
21. Business Continuity Management Implementation and Project Plan
22. Example Case Study—Emergency Management Australia—Economic and Financial Aspects of Disaster Recovery
23. Example Case Study California Office—Disaster Recovery Plan Document for Agencies Instructions
24. Example Case Study—Govt Western Australia—State Recovery Coordination
25. Example Case Study—Govt of South Australia—Records Management Disaster Planning Toolkit
(Also includes the Toolkit Roadmap)
Purchase the Business Continuity Management Toolkit Risk Free Today!
The instant you purchase the collection, the factsheets, presentations, and tools included above will be available to you through a simple download!
Need help justifying your investment?
At the Art of Service, we know how important your time is for you and we also understand that nobody can substitute you in certain scenarios. That is why we give you the results without you having to do all the legwork; we do the research, the analysis, and the collating of information we find.

All you have to do is take the outcome of all that work and use it as part of your project—to make it unique to your job, project, or task at hand in a way that only you can do.
Guaranteed to deliver a focused, practical, and user-friendly approach to Business Continuity Management. Get the know-how and understanding to secure your company's triumph!
Ensure your survival! Purchase your copy today!