The Corporate Endpoint (Mobile) Device Policies Toolkit
The Corporate Endpoint (Mobile) Device Policies Toolkit
Product Description
Invest in a Mobile Device Management Solution That Suits You!
Many organizations are looking to improve their understanding with regards to managing mobile devices as an overall improvement to the structure and quality of the organization.

The Toolkit is designed to answer a lot of the questions that Mobile Device Management raises and provides you with useful white papers, guides and essential, but simple templates.
Buy this Toolkit with confidence!All contents of this collection are 100% guaranteed. If you're not satisfied with your purchase we refund—no questions asked. See FAQ page for terms and conditions.
Join The Rest of The IT Professionals and EMBRACE The Idea of Technology!
Invest in a mobile device management solution that supports muliple platforms, and build in flexibility by enabling device diversity.
In recent months IT departments are seeing increase demand to support personal mobile devices.
Device types, operating systems and applications don't necessarily meet corporate policies and standards (i.e., sourcing, security, configuration, etc.).

Younger generation is pushing organizations to adopt "socially connected" applications, and mobile support.

Employees are distributed and require mobility support to do their jobs.
The Toolkit is designed to answer a lot of the questions that Mobile Device Management raises and provides you with useful white papers, guides and essential, but simple templates.

- The PowerPoint presentation can be used to educate staff or be used as the basis for management presentations or when making business cases for implementation.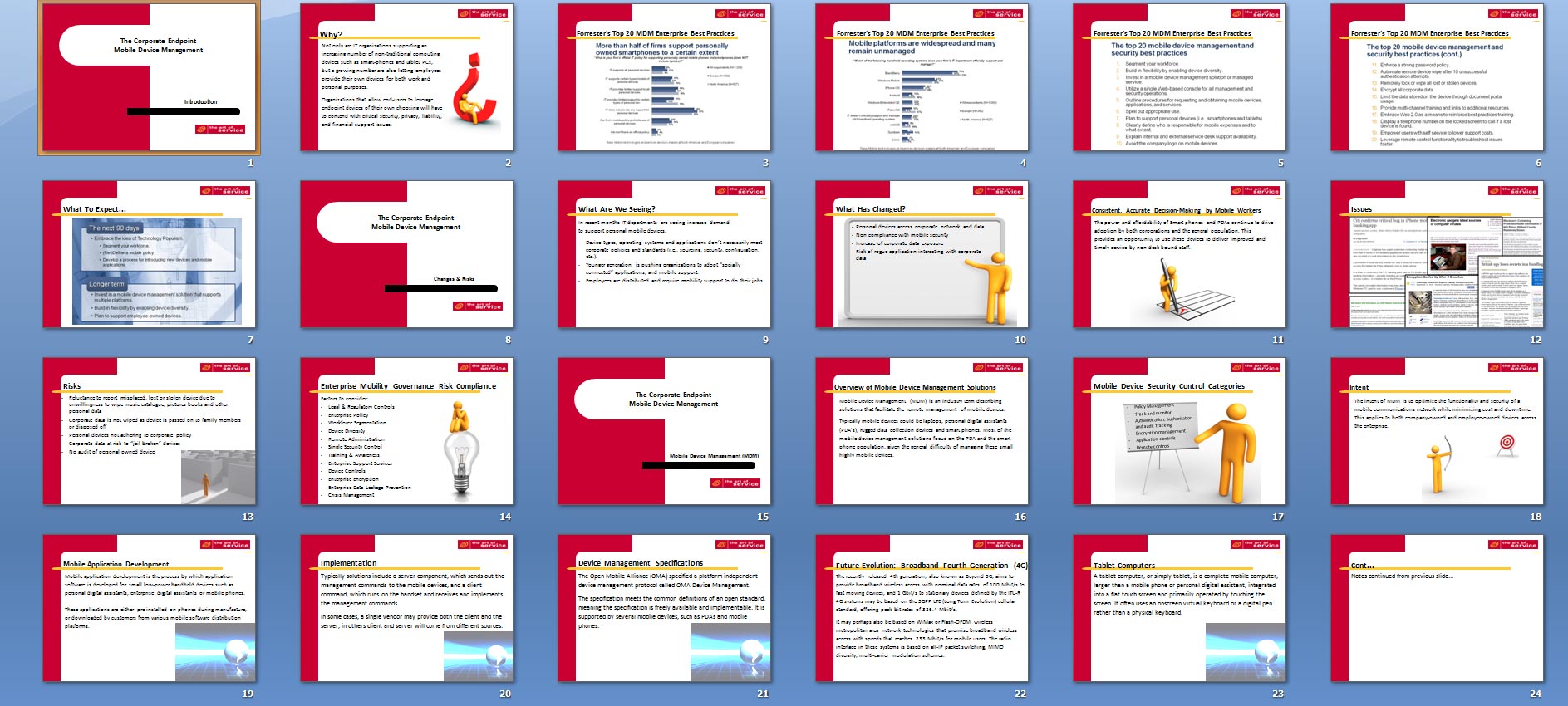 - The supporting documents and templates will help you identify the areas within your organization that require the most activity in terms of change and improvement, and provide a starting point whe designing and implementing new policies and procedures.



- The additional information and bonus resources will enable you to improve your organizations Mobile Device Management understanding and knowledge base, with a focus on Risk Management and Security.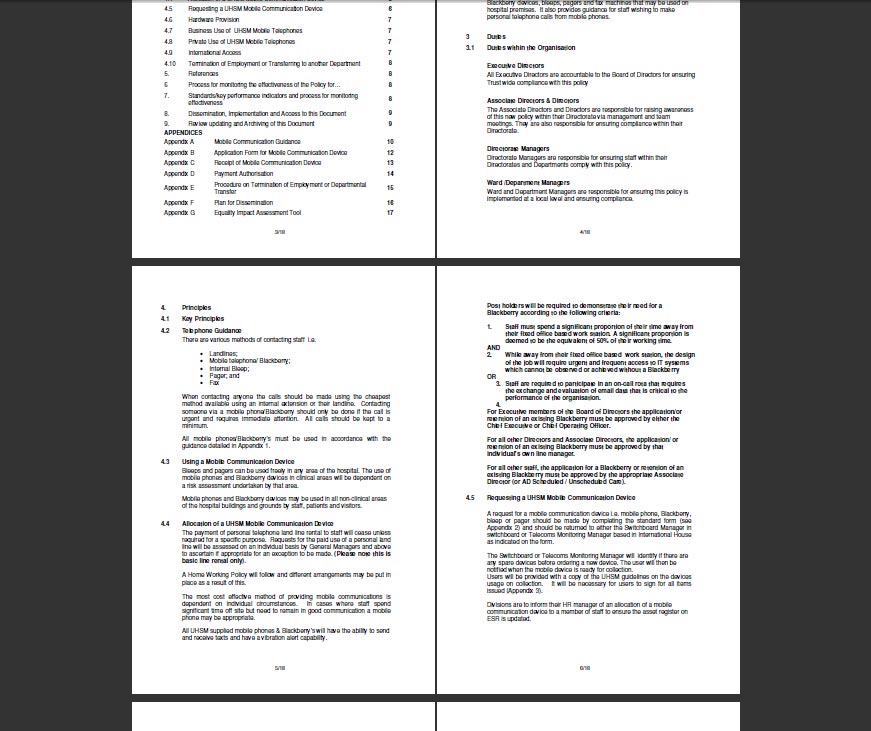 The toolkit serves to act as a starting point. It will give you a clear path to travel. It is designed to be a valuable source of information and advice.
The Corporate Endpoint – Mobile Device Management toolkit includes 34 documents and:

- Flows logically,
- Is scalable,
- Provides presentations, templates and documents,
- Saves you time.
The documents included in this toolkit are:
Toolkit Roadmap
12 Steps to a Successful Mobile Software Project
Authenticating Users on Handheld Devices document
Checklist for using iPads on your Network document
Corporate Governance – Misuse and Abuse of Mobile Devices Whitepaper
Example Business Case Mobile Devices
Example Employee Mobile Device Policy Template
Example Mobile Phone and Wireless Device Policy_21 page template
Guidelines on Cell Phone and PDA Security
iPad- Business
iPad- MDM
iPad- Security
iPhone - Business
iPhone- MDM
iPhone- Security
Mobile Device Management - Example Business Impact Assessment Template
Mobile Device Management Presentation
Mobile Device Security – Securing the Handheld, Securing the Enterprise
Security Management - Mobile Devices Review
Adams State College Colorado - Mobile Computing Policy
BBC - blackberry mobile devices
NHS Mobile Communications Devices Policy
NHS Mobile Computing Procedure
NHS Remote Working Policy
Checklist on Assignment of Risk Ownership
CRAMM
Generic Project Risk Assessment
Risk Assessment and Control Form
Risk Assessment Questionnaire
Risk Management Framework
Risk Management Review
Certifying Information Security Management Systems Overview.
ISO_IEC 27000 Standard - Requirements for Mobile Computing and Teleworking
Objectives and Goals- Security Management
Security Management Implementation Plan- Mobile Devices
Security Roles & Responsibilities
Purchase the Change Management Process Toolkit Risk Free Today!
The instant you purchase the collection, the factsheets, presentations, and tools included above will be available to you through a simple download!
Need help justifying your investment?
At the Art of Service, we know how important your time is for you and we also understand that nobody can substitute you in certain scenarios. That is why we give you the results without you having to do all the legwork; we do the researching, the analysis, and the collating of information we find.
All you have to do is take the outcome of all that work and use it as part of your project—to make it unique to your job, project, or task at hand in a way that only you can do.
Get Ahead! Grab your copy TODAY!!
Product Reviews
Find Similar Products by Category