The Problem Management Process Kit – Second Edition
The Problem Management Process Kit – Second Edition
Product Description
Minimize Effects of IT Infrastructure Incidents Today!

The Art of Service has designed this toolkit to introduce Problem Management main concepts, as well as provide you with the tools to successfully create a workable Problem Management culture in your organization. We provide you with step-by-step guides, templates, and best practice examples that will enable you to meet this challenge head-on.
Successfully Prevent & Manage IT Risks!

Problem Management is often considered to be one of the best processes that can provide quick returns. It is a process that delivers measurable benefits by removing errors from the IT Infrastructure. This toolkit delivers a wide variety of resources to BOOST your understanding and ability to implement Problem Management in your organization.
Problem Management aims to minimize the adverse impact of incidents and problems on the business
caused by errors
within the IT infrastructure, as well as to prevent the recurrence of Incidents related to these errors.
Problem Management
works together with
Incident Management
and
Change Management
to ensure that IT service availability and quality are increased.
When incidents are resolved, information about the resolution is recorded. Over time, this information is used to speed up the resolution time and identify permanent solutions, reducing the number and resolution time of incidents. This results in less downtime and less disruption to business critical systems. Other business benefits include:
Higher availability of IT services.
Higher productivity of business and IT staff.
Reduced expenditure on workarounds or fixes that do not work.
Reduction in cost of effort in fire-fighting or resolving repeat incidents.
This on-trend Toolkit focuses on how implementing a Problem Management is an effective way of improving the IT service structure of your business. This Toolkit is your answer to preventing IT-related incidents in a reactive and proactive manner.
This second edition toolkit provides answers to all of your Problem Management questions, and is designed to provide a guiding hand to assist you in improving your knowledge and understanding of Problem Management by offering a step-by-step, easy-to-follow roadmap. It also includes easy-to-use templates, assessments, presentations, and documents that can be adapted to your organization's requirements.
The Art of Service has designed this toolkit to introduce Problem Management concepts, and provide you with the tools to successfully create a workable Problem Management culture in your organization.
The PowerPoint presentations can be used to educate staff as the basis for management presentations or when making business cases for implementation.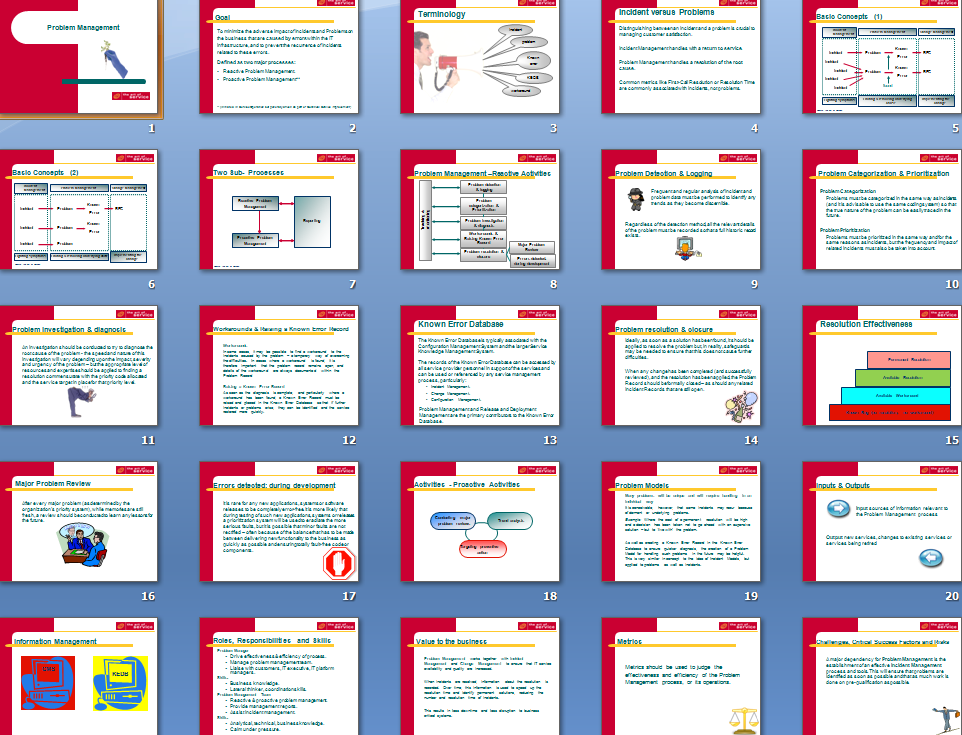 The supporting documents and templates will help you identify the areas within your organization that require the most activity in terms of change and improvement, and will provide a starting point when designing and implementing new designs, policies, and procedures.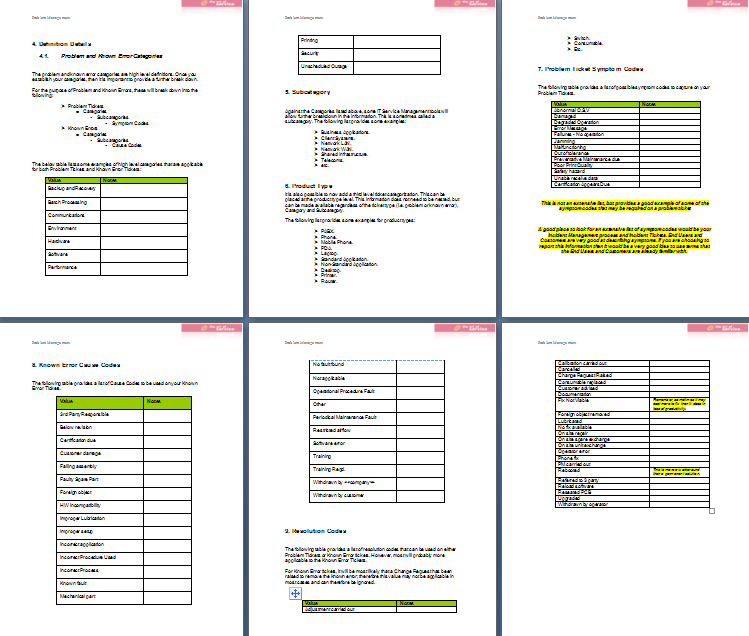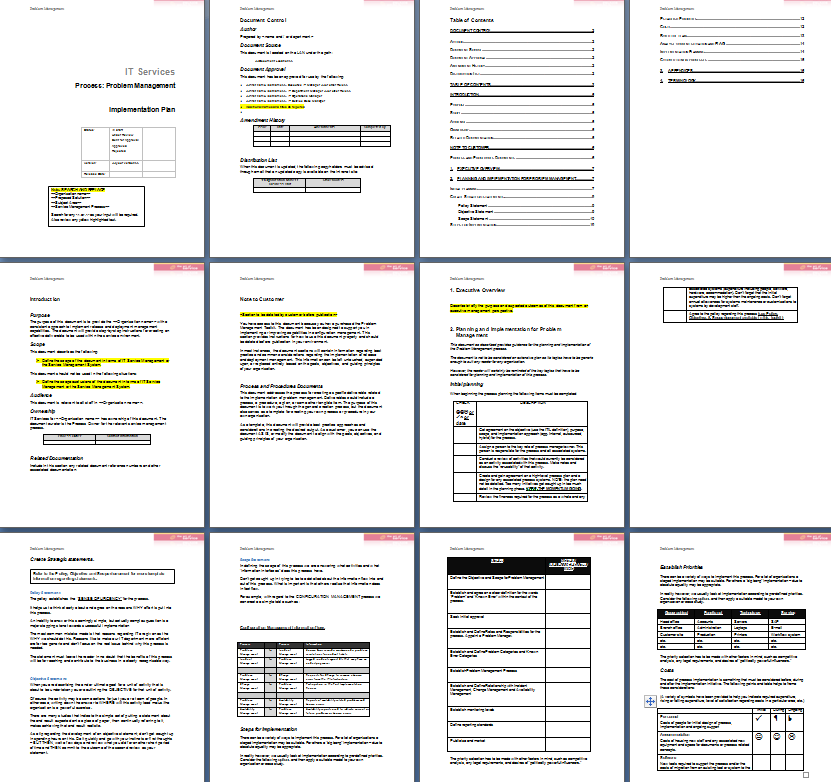 The additional resources will enable you to improve your organization's Problem Management understanding and knowledge base.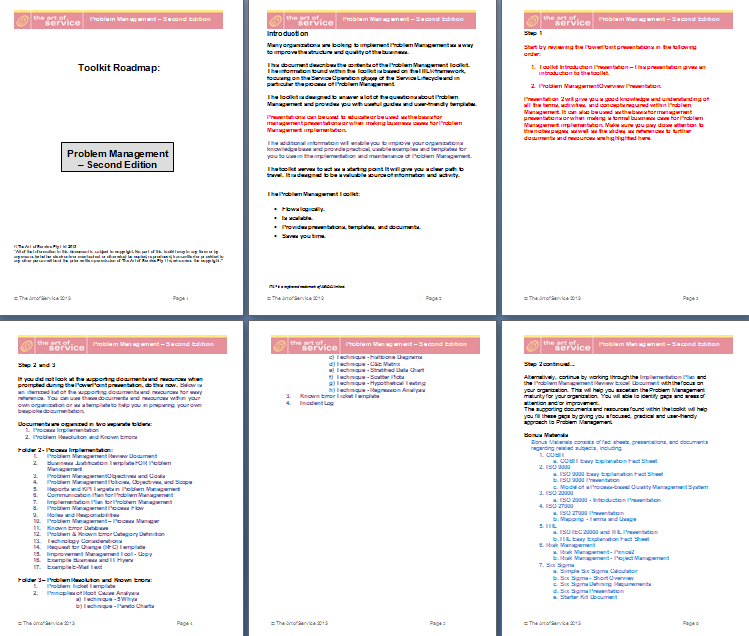 The Complete Toolkit Includes:
Step 1-Getting Started
Toolkit Roadmap - Problem Management.doc
Toolkit Introduction Presentation - Problem Management.ppt
Problem Management Overview Presentation.ppt
Step 2-Process Implementation
Problem Management Review Document.xls
Business Justification Template for Problem Management.doc
Problem Management Objectives and Goals.doc
Problem Management Policies, Objectives, and Scope.doc
Reports and KPI Targets in Problem Management.doc
Communication Plan for Problem Management.doc
Implementation plan for Problem Management.doc
Problem Management Process Flow.pdf
Roles and Responsibilities.doc
Problem Management - Process Manager.doc
Known Error Database.doc
Problem and Known Error Category Definition.doc
Technology Considerations.doc
Request for Change (RFC) Template.doc
Improvement Management Tool - Copy.xls
Example Business and IT Flyers.doc
Example E-mail Text.doc
Step 3-Problem Resolution and Known Errors
Problem Ticket Template.doc
Principles of Root Cause Analysis.doc
Technique - 5 Whys.doc
Technique - Pareto Charts.doc
Technique - Fishbone Diagrams.doc
Technique - C&E Matrix.doc
Technique - Stratified Data Chart.doc
Technique - Scatter Plots.doc
Technique - Hypothetical Testing.doc
Technique - Regression Analysis.doc
Known Error Ticket Template.doc
Incident Log.doc
Plus 17 Bonus Documents!
Purchase The Problem Management Process Kit – Second Edition Risk-Free Today!
The moment you purchase the collection, the factsheets, presentations, and tools included above will be available to you through a simple download!
Need help justifying your investment?
It took us 80+ man-hours to produce The Problem Management Process Kit – Second Edition: analyzing, processing, selecting, editing, and building the "flow" from the countless documents and data we have produced over months (at least $50/hour that comes to over $4,000 of time).
In total, the end result—The Problem Management Process Kit – Second Edition— reflects over a full-time employee's fortnight work.
At the Art of Service, we know how important your time is for you and we also understand that nobody can substitute you in certain scenarios. This is why we give you the results without you having to do all the legwork; we do the researching and the analysis, and the collating of the information we find.
All you have to do is take the outcome of all that work and use it as part of your project to make it unique to your job, project, or task at hand in a way that only you can do.
Purchase now and you have an instant ROI by having the right information at your fingertips and saving hundreds and hundreds of hours of research time.
WATCH THE DEMO VIDEO BELOW!
Product Reviews
Find Similar Products by Category