The Service Level Management and SLA Toolkit
The Service Level Management and SLA Toolkit
Product Description
THIS PRODUCT HAS BEEN IMPROVED - PURCHASE THE LATEST VERSION HERE
You focus on defining the goals of your organization's successful Service Level Management and let this toolkit guide you to the end result.
Service Level Management, when performed successfully, can ensure that disputes are resolved and expectations are fulfilled and generally work to improve the relationship between the IT organization and the customers it supports. This established toolkit supports your Service Level Management goals by providing step-by-step guides, templates, and best practice examples that will enable you to meet this challenge head on.
By creating an IT Service Management (ITSM) strategy, enterprises are able to maximize end-user productivity, improve operational effectiveness, and enhance overall business performance. If managed effectively, communications and the overall relationship between the IT organization and the business units improves, and expectations are both set and met at the correct level.
BUT designing, implementing, and maintaining a Service Level Management process can seem an overwhelming task—where do you begin? What are the benefits and goals? How do you ensure the objectives are in tune with the organizations overall mission and objectives? How can you get your managers on board with this new opportunity? How would you manage the different requirements and expectations of your customers? How do you create an SLA, OLA, and UC? What processes and staff should be involved? Which documents do you need? What ITSM tools are required? And how do you choose them? How do you begin to ascertain what is already in place and what needs improving within the current infrastructure?
This reputable Service Level Management and SLA Toolkit promises to provide you with ALL the answers. It proves to act as a guiding hand to assist you in building your knowledge and understanding of Service Level Management.
This recognized Service Level Management and SLA Toolkit contains presentations, blueprints, and assessments:
The carefully created Power Point Presentations can be used to educate or be used as the basis for management presentations or when making business cases for implementation. These presentations will give you an insightful plethora of knowledge and understanding of all the terms, activities, and concepts required within the Service Level Management and SLA process.
The supporting documents and assessments provided within this toolkit will help you identify the areas within your organization that require the most activity in terms of change and improvement.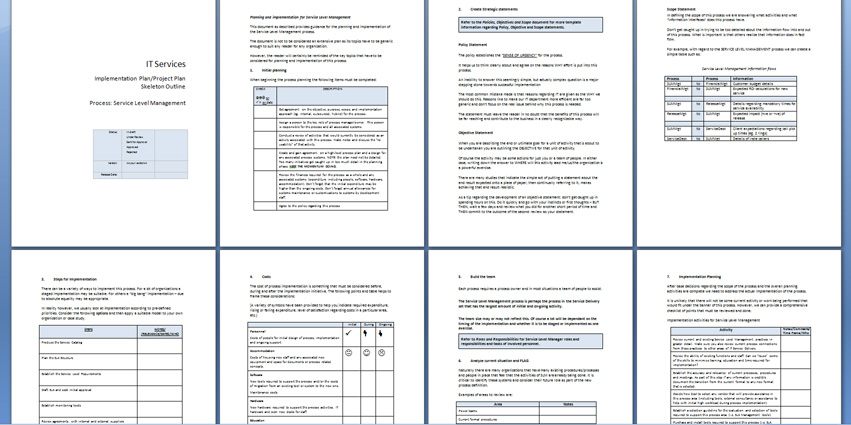 Additional Information and bonus material containing success secrets to embedding Service Level Management into any organization are provided and will enable you to hugely increase your success rate.
A Quick Look Inside:
1. Presentation—SLM Introduction
2. Presentation—Managing Change
3. Presentation—Organizational Behavior and Leadership
4. SLM Scope Template
5. SLM Communication Plan Template
6. SLM Implementation Plan Template
7. SLM Business Justification Template
8. SLM Functional Specification Template
9. SLM Process Manager Role Description Template
10. SLM Business and IT Service Mapping
11. SLM Customer-based SLA Template Example
12. SLM Multi-Level SLA Template Example
13. SLM Service-based SLA Template Example
14. SLM Objectives and Goals Template
15. SLM Operational Level Agreement Template Example
16. SLM Underpinning Contract Template Example
17. SLM Policies, Objectives, and Scope Template
18. SLM Price List Example
19. SLM Reports, KPIs, and Other Metrics Template
20. SLM Service Level Requirements Template
21. SLM Service Options Template
22. SLM Technical Specifications Template
23. SLM Review Doc
24. SLM_ITSM Tool Requirements Template and Planner
25. SLM Capability Assessment Questionnaire
26. Copy of Assessment Results from Capability Assessment—SLM
27. Managing Change Effectively
28. Develop Your Leadership Skills
29. Motivation
30. KPIs
31. Implementation Tools
32. Toolkit Roadmap
Purchase the Service Level Management and SLA Toolkit Risk Free Today!
The instant you purchase the collection, the factsheets, presentations, and tools included above will be available to you through a simple download!
Need help justifying your investment?
It took us over 100 man-hours to produce the Service Level Management and SLA toolkit: analyzing, processing, selecting, and building the 'flow' from the countless documents and data we have produced over months (at at least $50/hour that comes to $5000 of time)

The end result is a Service Level Management & SLA toolkit that reflects close to a thousand man-hours of work (at least a $50,000 investment in time)
At the Art of Service, we know how important your time is for you and we also understand that nobody can substitute you in certain scenarios. That is why we give you the results without you having to do all the legwork; we do the research, the analysis, and the collating of information we find.

All you have to do is take the outcome of all that work and use it as part of your project—to make it unique to your job, project, or task at hand in a way that only you can do.
Let us help you develop a guaranteed step-by-step effective process that allows your organization to shine a light on your customers needs!
Stand out in the crowd and maximize your potential as an IT service provider! Buy your copy today!
Product Reviews
Find Similar Products by Category