IT operations management (or more commonly, just "operations") is generally agreed to encompass the day-to-day tasks related to the management of technology infrastructure components and the more granular needs of individual applications, services, storage, networking and connectivity elements of a total IT stack in any given deployment scenario.
Most companies today rely on their IT for delivering business services to their end users. Any delay or disruption in the service delivery will affect the business very badly. IT teams strive hard to keep the MTTR to the lowest so that they can achieve their SLAs. However, it is easier said than done because IT involves various layers such as network, server and storage, and application. Without knowing where the fault is it is impossible to fix it quickly.
To spot the problem area quickly, a fair amount of knowledge into each of the IT layers is necessary.
If you are looking for answers to one or more of these questions then THIS is the toolkit for you:
What are the leading IT operation management/network and system management software products out there?

What exactly is IT operations management?

What do IT operations managers do?

What are the fields an IT Operations Manager should master?

What's the difference between Operations Research and IT Operations Management?

What are the latest trends in IT operations management?
This toolkit is designed to provide a guiding hand to assist you in improving your knowledge and understanding of IT Operations Management by offering easy to use templates, blueprints, and documents that can be adapted to your requirements.
Simplify your IT operations and find faults quickly

Align your IT & business resources

Aggregate monitoring systems and never miss an alert

Seriously improve IT Operations
Buy with confidence, the IT Operations Management toolkit has a 100% Satisfaction Guarantee.
Put together by The Art of Service's industry experts and providing ready to use documents, this valuable kit takes the reader beyond the theoretical to focus on the real benefits and deliverables of IT Operations Management and how to apply them successfully.
This innovative set of documents and ready-to-use templates will provide you with a head start for both learning and applying of a IT Operations Management approach that meets today's standards. It is tailor-fit for professionals who don't have the time or resources at hand to develop the required templates and structure for implementation or management.
The Complete IT Operations Management Toolkit includes 50 resources:
This toolkit includes a variety of electronic documents that provide a head start for the implementation, management, education and awareness for IT Operations Management.
The kit is designed for those who need or are looking for awareness or skills, but simply don't have time to develop the necessary templates and structure for the implementation.
The kit serves to act as a starting point, it will give you a clear path to travel and is designed to be a valuable source of information and activities.
Toolkit Contents:
Auditable Security Controls Of Best In Class Security And It Operations Organizations.ppt

Cloud Computing.pdf

Department Of Information Technology And Telecommunications Strategic Plan.pdf

Designing Operations Interface To Enhance Situational Awareness.pdf

Developing A Framework To Improve Critical Infrastructure Cybersecurity.pdf

Dynamic Data Processing Applications With Data Phasing And Work Management.pdf

Dynamic Data Processing Applications With Multiple Record Types And Work ....pdf

Execution Order Management Of Multiple Processes On A Data Processing System ....pdf

Highly Available Transaction Processing.pdf

Hp Bto Software Roi Analysis Questionnaire.doc

Hp Business Service Management.pdf

Information Technology Portfolio Report.pdf

Information Technology Risk Management Program.pdf

Information Technology Trends.ppt

Integrated Process Model.ppt

It Asset Management.ppt

It Governance.ppt

It Infrastructure Management.ppt

It Operations Automation.pdf

It Operations Management Intelligent. Integrated. Innovative..pdf

It Operations Management Tweet Book.pdf

It Operations Management- A Roadmap For Progress.pdf

It Project Management - Revisited.ppt

Itil Service Lifecycle.doc

Method And Apparatus For Creating A Contract Of Service To The Tenant Within ....pdf

Method And Apparatus For Creating A Tenant Invoice Based On Software Defined ....pdf

Method And Apparatus For Creating Software Defined Routing Meshed Networks ....pdf

Method And Apparatus For Defining Virtual Machine Placement Logic That Is ....pdf

Method And Apparatus For Multi-tenant Service Catalog For A Software Defined ....pdf

Method And Apparatus For Operations Big Data Analysis And Real Time Reporting.pdf

Method And Apparatus For Periodic Diagnostics Of Tenant Event Streams.pdf

Method And Apparatus For Persistent Orchestrated Task Management.pdf

Method And Apparatus For Processing Virtual Machine Instances In Real Time ....pdf

Method And Apparatus To Orchestrate Any-vendor It Infrastructure (Compute ....pdf

Method And Apparatus To Remotely Control Information Technology Infrastructure.pdf

Method For Controlling A Computer.pdf

Methods For Capacity Management.pdf

Methods For Managing Capacity.pdf

Modern It Operations Management.pdf

Operations Booklet.pdf

Sizing-up It Operations Management- Three Key Points Of Comparison.pdf

Social It Operations Management-.pdf

Strategic Information Resources Management Plan.pdf

Sw Development Process Overview.ppt

The Convergence Of It Operations Management.pdf

The Convergence Of It Operations.pdf

Truesight Operations Management.pdf

What Are Services?.ppt

What Is It Governance?.ppt

What Is Itil?.ppt
Toolkit Documents Sizes and Kinds: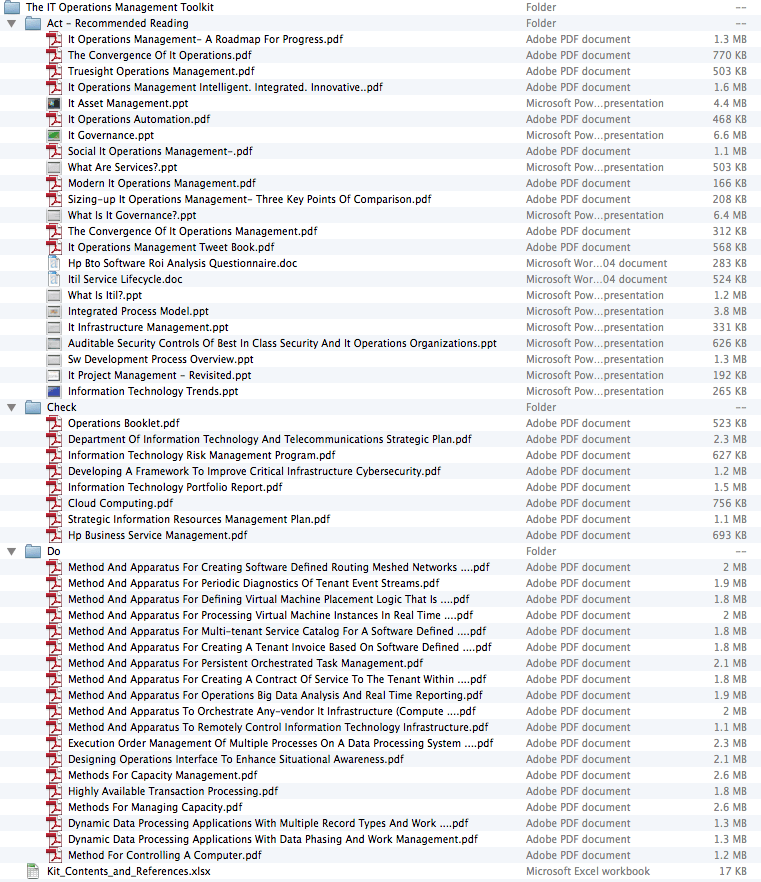 The IT Operations Management toolkit:
1. Contains 50 ready to use documents covering the Preparing, Planning, Designing, Implementing, Operating and Optimizing of IT Operations Management
2. Is scalable to any size and type of project or organization
3. Provides blueprints, templates and documents - ready to download and apply
4. Saves you time and budget