Cloud Computing Foundation - eLea
rning Course, Exam and B
oo
k
Technical certifications, the ticket to higher pay and more prestige, also keep you employed. The trick is to get the one that will really help keep or land that job.

Cloud Computing Certification is one of the hottest tech certifications in today's job market. According to Foote Partners' survey of more than 22,000 IT professionals, covering some 170 certifications, the most valuable certificates today settle mainly into two camps: architecture and security. Cloud Computing certification falls into the architecture category.

Cloud Computing Certification is the most influential one for years to come, the one that will grow the fastest, the one that will show the true future of IT certification. It's the one that will rise the fastest.

If you're looking for yet another sign that Cloud Computing is becoming a real player, then you've got it.

So how did Cloud Computing Certification break through to the top? Having a stellar reputation never hurts, and The Art of Service is well known for the quality of its IT Certification programs, which tests candidates' hands-on skills. Cloud Computing Certification is a truly challenging certification, It carries a lot more respect than others in the market.

But the title wouldn't go anywhere unless its skills were seen as marketable. And high-level Cloud Computing skills may be more marketable than some might think. These days demand for a great Service/Architecture/Cloud Computing person outstrips the demand for general Microsoft administration skills.

This Study Guide and Online Course access provides complete, in-depth coverage of all exam objectives for the Cloud Computing Foundation exam in a systematic approach, so you can be confident you're getting the instruction you need:
Real-world scenarios put what you've learned in the context of service solutions.
Thought provoking questions to challenge your thinking and understanding.
Exam Essentials in each chapter helps you zero in on what you need to know.
Includes practice exam questions.
A Real World Guide to Cloud Computing Skills.
Key information and real world examples organized around the actual day-to-day tasks and challenges you'll face in the field of IT Management.
Practice what you've learned with challenging Cloud Computing Foundation exam style questions.
Program Materials:
Multimedia presentations;
End of module review questions to assess your content knowledge; and
A full sample exam to assist in your exam preparation.
The cloud computing foundation online course consists of 7 modules.
Each containing various presentations and quizzes, that along with the study guide eBook are designed to boost your knowledge and understanding of the fundamentals of cloud computing.
The modules cover the following concepts: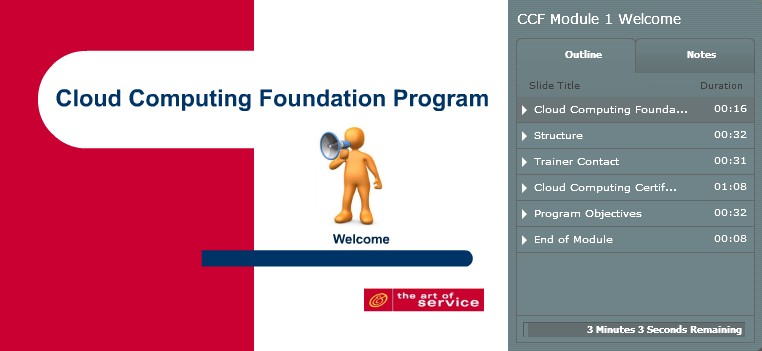 Welcome to the program
Introduction to Cloud Computing
Related Forms of Cloud Computing
IT Service Management Terminology
IT Service Management Principles & Cloud Computing
Supporting Cloud Services
Exam Preparation
Pre-requisites:

There are no pre-requisites for the Foundation program but a basic IT literacy and knowledge of IT services is desirable.

Contact Hours

The recommended minimum contact hours for the eLearning course is 18.
About the Examination:
It is recommended that students should complete at least 18 hours of personal study by completing the eLearning program reading Foundation book in preparation for the examination.
The exam is a closed book exam with 40 multiple choice questions.
Exam duration is a maximum 60 minutes for all candidates
Pass score is 32/40 or 80%
Credits:

Passing the Cloud Computing Foundation Exam will give you 2 points towards acheiving your Cloud Computing Expert Certification.
Reviews:

Superb Resource and Learning Tool

My employer purchased a few of these books for us to use as resources. Hands down, this is the most comprehensive, organized, and well put together resource on cloud computing. Cloud computing is an important transition and a paradigm shift in information technology services delivery. If your clients are looking to you to be an expert, this is the best investment you can make. In addition, once you purchase the book you also get access to their eLearning programs at no cost! Excellent resources. You will use this as a guide for the rest of your career.

Great Beginning!

The material is presented in a logical, easy to follow manner. I believe this is well worth the money and I am looking forward to advancing to the next level. I believe that having cloud computing certifications from the Art of Service will distinguish me from other IT professional having the same common IT certifications.

Excellent book, totally satisfied

This is an amazing book for anyone who wants to explore what is Cloud Computing and how it works in the world of ITSM. The book includes some very detailed case studies from real world implementation. I deeply enjoyed reading this book and it really helped me understand the jargons about Cloud Computing. I read the book 2 times, practiced the sample tests and passed the Cloud Computing Foundation Certification exam with 95%. I would definitely recommend this book to my colleagues and friends.