Product Description
Create Customer Confidence!
One of the biggest challenges faced by IT organizations today is providing a high quality Help Desk that has a reputation for speedy resolution times, staff with a great technical knowledge and understanding , and above all a high standard of customer interaction and service. However, many organizations fail to meet this challenge and as a result lose customer confidence, and ultimately the foundation they need to reach their goals for success.
BUT where do you begin? What are the benefits and goals? How can you get your managers on board with supporting and promoting this function? How do you manage the different requests and expectoration of your users? What staff should be involved? What kind of KPI'S and measures are involved? What documentation do you need?
This kit supports your Help Desk goals by providing step by step guides, templates and best practice examples that will enable you to meet this challenge head on.
This toolkit provides answers to all these questions and is designed to provide a guiding hand to assist you in improving your knowledge and understanding of a Help Desk by offering a step-by-step easy to follow roadmap. It also includes easy to use templates, assessments, presentations and documents that can be adapted to your organization's requirements.
You focus on deciding the goals of your organizations successful strategy, and let the Help Desk toolkit guide you to the end result.
The PowerPoint presentations can be used to educate staff, as the basis for management presentations or when making business cases for implementation.
The supporting documents and templates will help you identify the areas within your organization that require the most activity, in terms of change and improvement, and provide a starting point when designing and implementing new designs, policies and procedures.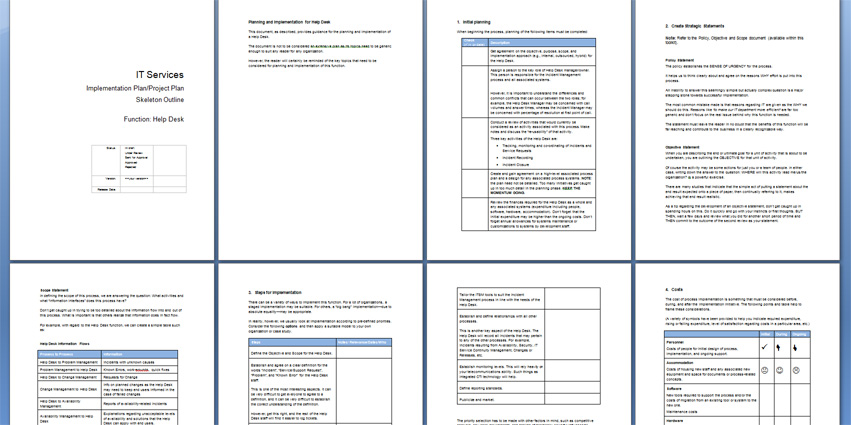 The additional assessments and resources will enable you to improve your organization's Help Desk understanding and knowledge base.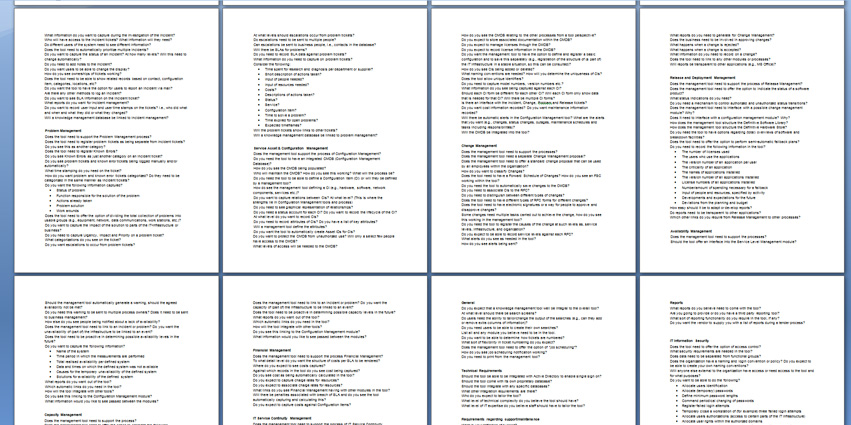 Toolkit Includes:

Toolkit Roadmap
Toolkit Introduction Presentation
Help Desk-Roles and Responsibilities
Help Desk Review Document
Help Desk Technology
Help Desk Outsourcing Template
Example Help Desk Project Plan
Help Desk-Metrics
Communication Plan
Business and IT Flyers
Help Desk-Objectives and Goals
Policies Objectives & Scope
Implementation Plan & Project Plan
Business Justification document
Example Job Description
Example Job Advertisement
Help Desk Interview Questions
Customer Service Standards
Help Desk Trouble Ticket
Purchase the Help Desk Toolkit Risk Free Today!
The instant you purchase the collection, the factsheets, presentations, and tools included above will be available to you through a simple download!
Need help justifying your investment?
It took us 40 man-hours to produce the Help Desk toolkit: analyzing, processing, selecting and building the 'flow' from the countless documents and data we have produced over months. (at at least $50/hour that comes to $ 2000 of time)

In total the end result, the Help Desk toolkit, reflects close to a full time employees weeks work.

At the Art of Service we know how important your time is for you and we also understand that nobody can substitute you in certain scenarios. That is why we give you the results without you having to do all the legwork, we do the researching and the analysis and the collating of information we find.

All you have to do is take the outcome of all that work and use it as part of your project - to make it unique to your job, project or task at hand in a way that only you can do.

Purchase now and you have an instant ROI by having the right information at your fingertips and saving hundreds and hundreds of hours of research time.
Product Reviews
Find Similar Products by Category